Here is another entry for the Art Bead Scene Studio's "Art Journey #6". This time the inspiration was modern constructivist sculpture by Katarzyna Kobro.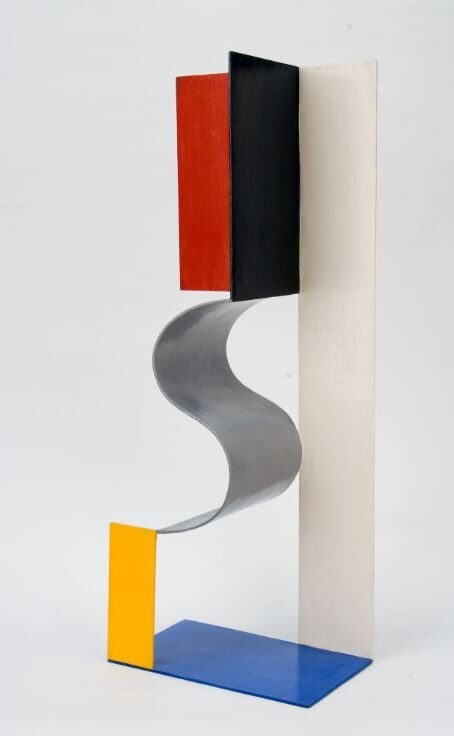 I was lucky enough to win a package of beads by Erin Prais-Hintz (Tesori Trovati) so I had an easy place to start.
My first pair of earrings feature Erin's polymer clay components which I paired with hammered wire directly on sterling silver creole hoops. To me the inspiration sculptures are about primary colours and primary shapes so I picked up the circle and the line motif from polymer component. I decided to hang them on the hoops so that the wire additions could be moved to the front or the back to change the composition of the earrings. This also gives them a three dimensional existence like the sculptures.
The next pair of earrings feature Erin's box charms. I made my own polymer clay components to go inside, but they didn't feel right when I came to assemble the earrings. Instead used some of the glass beads that she sent and added the white polymer clay circles as a reference to the white curves in the inspiration sculptures.
The last pair of earrings I made were slightly accidental and are not quite fully developed. Originally I made the red polymer clay curves to go inside the box charms, but then I decided I preferred them on their own. However I had only made two for my original idea so I had to make another pair and wait till my oven was full to do another bake so that took an extra week.
The curved components are free to move around the pins to create a variety of compositions. Originally these were just red, but last night (after I had finished making them into earrings), I decided they needed white for more visual contrast. Therefore I dismantled them to add a white outline and baked again. Looking at them now I think I should have made the little cubes different colours too, maybe blue or yellow. However that would mean starting from scratch so it's not going to happen in time for this challenge!
It's surprisingly difficult working with minimalist blocks of colour and shape. There's no texture to hide imperfections or whimsical decorative distractions.